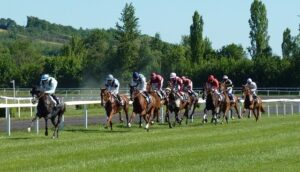 Born in Wantage, Berkshire on November 5, 1935, Lester Piggott was the greatest Flat jockey of his era and was held in awe by many of his horse racing contemporaries. He rode his first winner in Britain, The Chase, at Haydock in August, 1948, and his last, Palacegate Jack, at the same Merseyside track in October, 1994. In the intervening 46 years, Piggott rode 4,493 winners and became Champion Jockey eleven times, including eight years running between 1964 and 1971.
Piggott was uncommonly tall for a Flat jockey, at 5′ 8″, and his height, together with his idiosyncratic, short riding style, led to him being nicknamed the 'Long Fellow'. He was also famously tight-lipped, mainly due to a hearing impairment and slight speech impediment, and was known, less kindly, as 'Old Stone Face'. Piggott enjoyed fruitful associations with three of the most successful trainers in the history of British Flat racing, namely Sir Noel Murless, Vincent O'Brien and Sir Henry Cecil, and won 30 English Classics; he remains the leading jockey in the history of the Derby, with nine wins between 1954 and 1983.
Remarkably, Piggott also remains, far and away, the most successful jockey in the history of Royal Ascot, with 116 victories, including a record 11 in the Gold Cup, in an era when the Royal Meeting was confined to four days. He also rode Nijinsky, trained by Vincent O'Brien, to victory in the 2,000 Guineas, Derby and St. Leger in 1970, thereby completing the English Triple Crown.
Piggott retired from race riding for the first time in 1985, but was subsequently found guilty of tax fraud and sentenced to three years' imprisonment, of which he served just over a year. He came out of retirement in 1990, famously winning the Breeders' Cup Mile at Belmont Park, New York on Royal Academy, also trained by Vincent O'Brien, less than two weeks after his return to the saddle. He also won the 2,000 Guineas in 1992, on Rodrigo De Triano, trained by Peter Chapple-Hyam, before retiring for a second, and final, time in 1995.